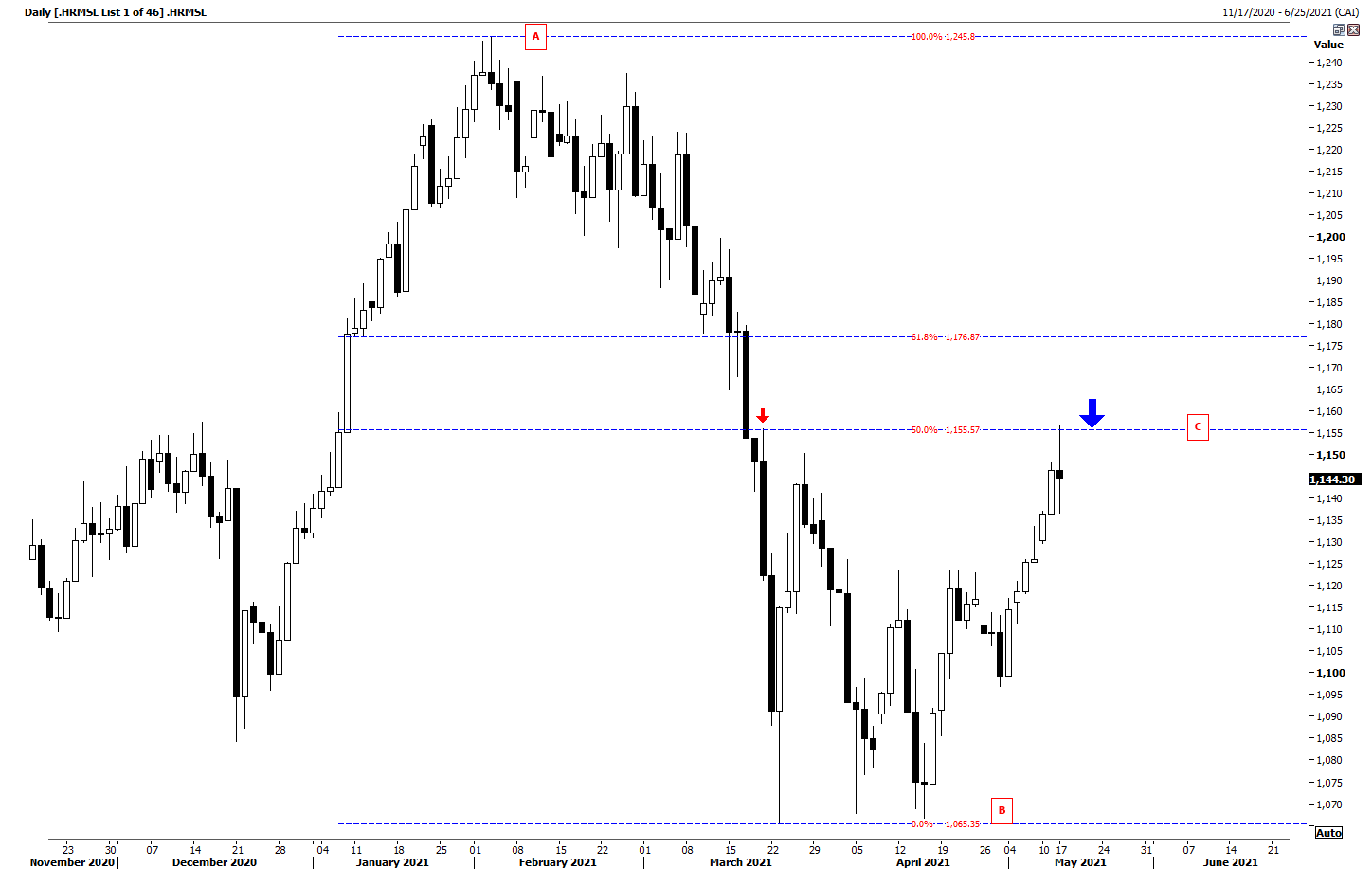 Hermes Last Price Index (.HRMSL) 1,144 (-0.18%)
Today we are going to shed the light on the daily chart of the HRMSL Index for a clearer discloser on the market performance during yesterday's session.
During Monday's session the HRMSL Index reached its resistance level at 1,155 points (that corresponds to the resistance level 10,900 on EGX30) where the Index started to face reluctance and closed at a slight decline 1,144 points.
The significance of the 1,155 points lies at; 1) it represents a previous peak, and 2) it coincides with 50.0% Fibonacci retracement (i.e., from "B" to "C") compared with the previous downward move (i.e., from "A" to "B"). 
In addition, yesterday the market witnessed significant above average volumes, mainly led by the violent fluctuations on COMI.CA, SWDY.CA and FWRY.CA performance, due to the MSCI rebalancing results.
Currently we closely monitor the previous two sessions' low at the minor support level 1,136 points. 
In case of failure to maintain above the latter level this would pave the way for further decline, where our focus will be concerned on the important support area lies between 10,500 – 10,400 points on EGX30 Index.
Short term traders are advised to be selective, while trailing their protective stop to the nearest support levels according to each stock and the risk tolerance. 
| Investor Type | Buy Value | Buy % | Sell Value | Sell % | Net Value |
| --- | --- | --- | --- | --- | --- |
| Investor Type | Buy Value | Buy % | Sell Value | Sell % | Net Value | Net % |
| --- | --- | --- | --- | --- | --- | --- |
| Company Name | Last | % Change | Change | Value | Volume |
| --- | --- | --- | --- | --- | --- |
| Company Name | Quantity | Value |
| --- | --- | --- |